Description
CBD Dog Chews
Peanut Butter – Calming Support For Dogs

Bacon Flavor – Mobility Support For Dogs
Sweet Potato  – Immunity Support For Dogs
Why Do Dogs Like to Chew?
Even though we all know how much our dogs love these chews, the reasons why dogs appreciate bones and other chews may not be as evident. The history of dogs' desire for chews is revealed, as well as why our furry companions continue to value them so highly.
A dog chews for a variety of reasons. You've seen your pet do it numerous times, and he appears to like it. Yes, dogs have a natural desire to chew. It is in their blood.
The Benefit of Dog Chews
Chews are a wonderful way that may be able to aid in helping to maintain your dog's dental health. The act itself strengthens the jaw muscles, removes plaque and tartar from the teeth, and relieves a teething puppy's discomfort.
Giving Dog Treats to Your Pet
The majority of dogs are satisfied with any treat. However, dogs, unlike humans, cannot choose their treats, so we must make informed judgments on their behalf.
You can offer your dog treats on a daily basis. The calorie amount of the treats is more relevant than the number of treats. Treats should make up no more than 10% of your dog's daily calorie consumption, according to veterinarians.
CBD Dog Treats – A Fun Way To Let Your Dog Enjoy Life
Give your pet CBD dog treats that may also aid in helping to serve to soothe and relax him.  CBD Soft Chews apart of our CBD Pet Products for Dogs combines CBD, nutritious prebiotics, probiotics, and enzymes with delicious peanut butter, banana, and pumpkin flavor your dog will crave. Each treat contains 10 mg CBD and is suitable for all canines.
You may also be able to choose whether you want your pet to try CBD dog treats first by getting a small package that contains a total of 50 mg CBD or the bigger one which contains a total of 300 mg CBD.
What is CBD?
The active components in marijuana include THC and CBD. THC is the chemical that causes marijuana users to feel "high." CBD, on the other hand, does not produce a "high," and research suggests that it may have a variety of health benefits.
The plant must have less than 0.3% THC to be classified as hemp. Marijuana is defined as cannabis plants with a THC content of more than 0.2% or 0.3%.
While buying CBD varies by state, many people in the United States can easily buy CBD products both in stores and online.
CBD for Dogs
Cannabis research for pups is still in its early stages. Veterinary research has only recently begun, leaving pet owners with no choice but to depend on the limited facts and anecdotal evidence presently available. While these findings suggest that CBD and CBD dog treats may be safe and beneficial, dog owners should pay close attention to the products they use.
Is CBD for Humans Safe for Dogs?
The CBD in dog products, like CBD dog treats, is the same CBD found in human products. Human CBD may be safe to give to your dog, but you really should follow your veterinarian's advice. If the product isn't manufactured exclusively for dogs, check the label to see ingredients like chocolates and artificial sweeteners, which can be hazardous to dogs.
Things to Consider Before Giving your Dogs CBD Dog Treats 
It might be difficult to determine the proper CBD dosage for your dog, specifically for pet parents who are new to CBD for dogs. If you want to shop CBD for your dog, there are three important considerations to recognize:
Your pet's size and weight. The general guideline is that bigger and heavier dogs require more CBD than smaller dogs to feel the effects.
CBD consumption method. CBD and hemp oils are the greatest solutions for dogs because of their high bioavailability. However, not every dog will enjoy the flavor of CBD, therefore CBD dog treats may be a good substitute.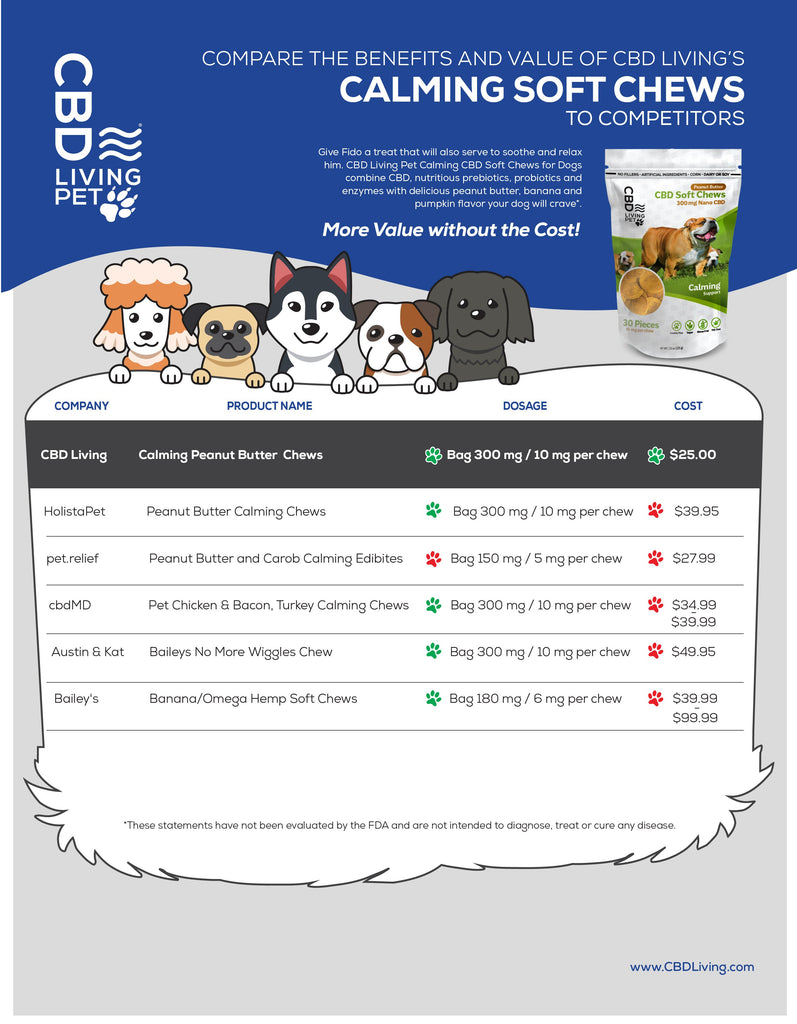 What's Inside CBD Soft Chews?
Clinically Documented strain Pediococcus Acidilactici NRRL B-50517 may help aid in digestion and may help aid in immune support in dogs.
DigeZyme® is a unique blend of enzymes (Amylase, Lactase, Lipase, Protease, and Cellulase) that may help promote a feeling of satiety in dogs.
Inulin FOS is a natural fiber that may help promote the growth of beneficial microorganisms for a well-balanced intestinal ecosystem in dogs.
CBD Living Pet Calming CBD Soft Chews are intended for canine use only. Do not administer to cats.
Unlike giving human CBD products to your pet, CBD Living Pet products, such as these CBD dog treats, are specially designed to suit the needs of animals. From tinctures to chews, gel caps, and salves, CBD Living Pet products are an all-natural way that may aid in helping your pets with anxiety, pain & inflammation.
You may give these soft chews to your pet as a treat for up to 3 times daily. In the event of an accidental overdose, always consult a veterinary expert.
Hard Chews VS. Soft Chews
There are a variety of treats available that may make your shopping experience more difficult. But don't worry, we're here to help.
Hard dog treats are slow-eating treats that allow your dog to enjoy the treats on their own. These are usually long-lasting, so depending on how long your dog chews, it could take hours for him to consume the entire treat.
Soft dog treats, on the other hand, are for quick enjoyment, whereas hard treats are for delayed gratification. They're quick-to-digest treats that you offer your pet for good performance or to keep them engaged in your activity or order.
When it comes to soft chews, there are a few things to keep an eye out for. Regardless of whether you use hard or soft chews, you should avoid ingredients that are harmful to your pet's health. These harmful chemicals are also commonly used as preservatives in popular treats.
What are CBD Treats Used For?
To begin with, your dog enjoys the taste and scent of dog treats. It's a little different from the ordinary. The majority of treats have savory ingredients that dogs like and that dogs recognize right away. Treats for dogs come in a variety of flavors, from beef to chicken.
Dog treats, such as CBD dog treats, could be a great addition to your pet's diet. You may use them to help your dog with training, dental health, boredom, and nutritional requirements.
You may also use a few drops of CBD to infuse your pet's favorite chewy treats with CBD. The CBD in the treats will be absorbed, making it easier to give the oil to a picky dog.
Why Use CBD Dog Treats?
Give your dog CBD treats with a tasty flavor since the nicer it tastes, the more positive reinforcement is created. So hunt for a flavor that appeals to their senses. Moreover, any daily treat you offer your dog should be made with pure, nutritious, and nontoxic ingredients. Simply inspect the contents of a CBD dog treat recipe to ensure that they are compatible with your pet's system.
Training with CBD Treats
The treats should be tiny and easy to swallow, with minimum chewing required for training reasons. Excellent dog treats are soft and approximately pea-sized. That is because dogs are more impressed by the number of dog treats they receive rather than the size of the treat.
You might wish to give them CBD dog treats, which may help provide excitement, incentive, and interest to signals that would otherwise appear monotonous and uninteresting to a dog's eyes.
Beginning to Phase Out CBD treats
When your pet responds appropriately to commands 90% of the time, you can start phasing out the CBD treats. It's not actually a hard process as long as it is done correctly. Once they understand the command, have connected behavior with it, and have demonstrated that they know what to do, gradually reduce CBD treats while increasing life rewards and changing when they receive CBD treats.
How Long Will CBD Take To Work On My Dogs?
CBD may take effect in as short as 15-30 seconds when provided sublingually to a little pup at a bigger dose for dealing with environmental stress at the low end.
This may take 45 minutes or longer to take effect for a pup that is more resistant to the effects, especially if they're struggling with something like pain or loss of appetite.
Of course, there's also the possibility that your dog won't respond at all. Because CBD builds up in your dog's system, it's best to dose for at least one week prior to actually expecting to see the effects of CBD for more severe conditions.
Why is Giving CBD to Dogs a Good Idea?
CBD dog treats may aid in helping your dog cope with separation anxiety. That's not everything. CBD pet treats may aid in helping to boost your dog's overall health. With that, you can give your dogs CBD dog treats as it may be highly beneficial to them however the scientific research is still coming out.
Are these CBD Pet Treats Safe?
While there are pros to allowing your pup to take it, you must equally weigh the cons. If you really want to make sure that this CBD brand is suitable for your pet, monitor him for the following weeks to see if there are any changes in his health and well-being.
Where to Get the Best CBD Dog Treats?
The next thing now is to learn what's the best brand of CBD pet treats to buy. However, there are so many brands available in the market. To help you decide, CBD Living has formulated soft chews that were made from natural ingredients and accurate formulas.
You can shop CBD dog treats directly on their website. Seeing your pup happy with these CBD dog products will make your day perfect.
What Makes the Brand Different From Others?
In comparison to other CBD manufacturers' products, which are only about 10-15% CBD, CBD Living uses a proprietary delivery system that results in 90% CBD. Smaller doses for better results mean less time and money spent.
Also, other CBD products include 0.3% THC, whereas all of CBD Living's CBD products are THC-free. This eliminates the psychoactive effect, making it suitable for you and your pup.
Along with these features, this CBD dog chew has the following benefits:
It's vegan. In comparison to other products that contain non-plant ingredients, our product is vegan and may be suitable for dog consumption.
It's cruelty-free. We designed our product plant-based and cruelty-free, unlike other brands that may have no regard for animal welfare.
It's gluten-free. Our products may not have the potential to induce inflammatory problems in dogs because it contains no gluten.
It's soy-free. Our product is soy-free and may be suitable for all dogs, especially those who are sensitive to soy.
It's corn-free. Our products have no corn so dogs may not have the possibility to choke due to the whole grain corn content.
It's dairy-free. Our product has no milk, making it ideal for dogs who are lactose sensitive.
Contains no artificial ingredients. Because our products include no preservatives, dogs may not feel any discomfort upon taking them.
It's THC-free. Because there is no THC in our dog chews, there is no psychoactive effect.
Only uses 100% organic hemp from state-licensed farms in Oregon and Colorado.
It's made in the USA. Unlike items sold outside of the United States, ours is designed to meet worldwide demand.
What are the Other CBD Products Available in the Market?
Several improved CBD hemp oil products have been introduced to the market in recent years for a variety of uses.
You'll see a lot of options, and competition is growing among the numerous full-spectrum CBD oil companies and CBD hemp oil products available to consumers.
One example would be CBD oil treats for your pup. Yes, there are CBD products available for your precious four-legged pup! CBD for pets is a fast-growing area of the pet industry. Since all pups have the same endocannabinoid system, pet owners may benefit from CBD for their cuddly loved ones.
Along with the CBD oil for your pup, lip balms, lotions, shampoos, conditioners, and other cosmetics infused with hemp-derived CBD oil, and sometimes with organic full-spectrum hemp, are also available.
Aside from these CBD products, CBD vape oils have also entered the market in a variety of flavors that contain natural hemp terpenes, and fruit-inspired flavors.